IT Services & Solutions For Education Organizations Throughout
New England
These are challenging times for K-12 schools. Budgets continue to shrink nearly every year, yet there is increasing pressure to develop innovative new state-of-the-art learning environments that serve students and faculty.
Legacy network infrastructure and the lack of proper professional planning often inhibit your ability to innovate easily and wisely. With the emergence of online learning, digital courses, and technology innovation, schools are looking for guidance in defining, designing, delivering, and managing these current initiatives.
The task of defining, designing, delivering, and managing their IT initiatives/solutions has never been more important. Many schools attempt to do it themselves only to find out that they do not have the knowledge and skills to do so in a comprehensive fashion.
RetroFit Technologies' experience in working with Independent and K-12 schools has been exemplary. Since 1994, we've been actively supporting schools throughout New England via all of the major technology statewide contracts, such as Massachusetts ITC73. We're also a highly experienced resource for strategic and budgetary planning for ERATE funding within the state of Massachusetts.
Managed IT Services For Education Institutions From
RetroFit Technologies
RetroFit Technologies provides your school with the IT tools it needs to create the following:
Engaged Students
Using the best technology for each student, motivating and ensuring the success of individuals.
Vibrant Learning Communities
Giving the education community easier ways to connect and communicate anytime, anywhere.
Effective Institutions
Securely delivering curriculum to support student learning while protecting students and institutions.
Secure Data
Deploying a range of critical security solutions combined with seamless management and maintenance to ensure student data is never at risk.
How Does RetroFit Differ From Other IT Services For Education Institutions Providers?
Given how many different New England IT companies there are, RetroFit is often asked how we differ from the rest. In other words, why should you choose us as your partner for education IT services?
RetroFit is a trustworthy Total Solutions Provider. Working with us gives you access to 24/7 in-house support, reliable proactive security solutions, network and firewall support, and more. We deliver all of this while assisting you in our role as your CTO.
Many other managed IT services companies in New England have not invested in their in-house team, choosing instead to outsource their help desk, network operations center, and other vital services — that's not the case with RetroFit. We work with local IT engineers here in New England that respond quickly to deliver support when you need it.
In other words, nothing is outsourced! You wouldn't want the functionality and security of your school's network being outsourced to an organization on the other side of the country, right?
While many managed IT services companies in New England have chosen to offload their critical services, RetroFit has decided to keep your IT support, cybersecurity, and all the services we provide to you in-house here in New England.
RetroFit Technologies Partners With
Only The Best Hardware & Software Companies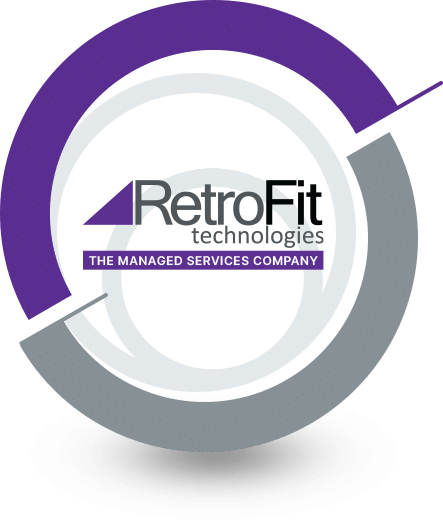 Get Started

With RetroFit Technologies

As Your Trusted Partner For New England Managed IT Services For Education Institutions
RetroFit Technologies provides New England Managed IT Services designed for education institutions like yours, giving you the freedom to focus on your organizational goals – instead of faulty IT.
Discover how RetroFit Technologies can help with all your IT needs. We invite you to partner with us and experience the difference decades of IT experience can make.