IT Services & Solutions For Healthcare Organizations Throughout
New England
The healthcare industry has been revolutionized by technology over the past decade.
Now more than ever, healthcare providers must reduce costs while addressing stringent mandates such as HIPAA, HITECH, PCI, and e-discovery. Furthermore, Long-Term Care faces EMR initiatives, while the VNA and Behavior Health face Mobility challenges.
The process of defining, designing, delivering, and managing your healthcare IT solutions has never been more important. Many practices attempt to do it themselves only to find out that they do not have the knowledge and skills to do so in a comprehensive fashion.
RetroFit Technologies' experience in working with New England healthcare organizations is extensive and varied. Since 1994, we've been actively supporting hospitals, community health centers, long-term care facilities, and Commonwealth healthcare agencies such as EoHHS.
Managed IT Services For Healthcare Organizations From RetroFit Technologies
The Triple Aim is a framework developed by the Institute for Healthcare Improvement, which is meant to help optimize health system performance.
RetroFit helps healthcare providers achieve the Triple Aim by enhancing their use of health IT. We define, design, deliver and manage turnkey HIT solutions including mobility, cloud, security, and business continuity. With RetroFit Technologies managing your HIT, you'll be able to focus on providing care without worrying about your technology needs.
Gain these benefits when you enlist our help to implement Triple AIM:
Improved Patient Care Experience:
Mobility Solutions allow for person-centered care using EMR;

caseworkers and clinicians can access the information and applications they need at the point of care.

We provide portable systems, as well as wired and wireless networking.
Improved Health Of Populations:
Obtain information directly from patients using EMR / POC software and analyze it to improve your processes.
We provide EMR solutions, servers, storage, as well as Big Data solutions.
Reduced Per Capita Costs Of Healthcare:
Move some in-house applications to the cloud, and deploy new applications the same way.
Outsource support of HIT to professionals to reduce cost and increase reliability.
We provide Cloud Solutions, Managed Services, and more.
RetroFit Helps Healthcare Organizations Stay Secure
Cybersecurity is a major concern for healthcare organizations in New England. That's why RetroFit Technologies provides robust IT security services in order to help protect organizations of all shapes and sizes from the threats in today's online world.
RetroFit's IT security services are the perfect solution for all organizations concerned about their data security, their medical operations, and their bottom line. RetroFit works hard to ensure the risks your healthcare organization faces are minimized.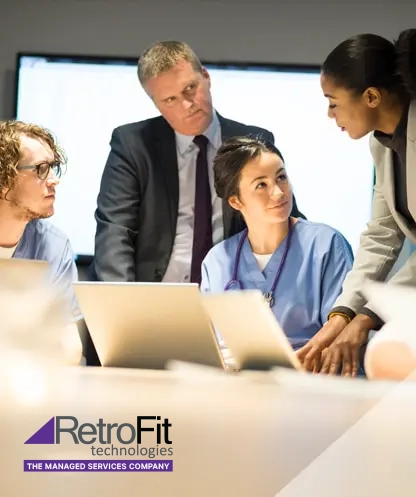 How Does RetroFit Differ From Other Providers Of IT Services For Healthcare?
Given how many different New England IT companies there are, RetroFit is often asked how we differ from the rest. In other words, why should you choose us as your partner for New England healthcare IT services?
RetroFit is a trustworthy Total Solutions Provider. Working with us gives you access to 24/7 in-house support, reliable proactive security solutions, network and firewall support, and more. We deliver all of this while assisting you in our role as your CTO.
Many other managed IT services companies in New England have not invested in their in-house team, choosing instead to outsource their help desk, network operations center, and other vital services — that's not the case with RetroFit. We work with local IT engineers here in New England that respond quickly to deliver support when you need it.
In other words, nothing is outsourced! You wouldn't want the functionality and security of your healthcare organization's network being outsourced to an organization on the other side of the country, right?
While many managed IT services companies in New England have chosen to offload their critical services, RetroFit has decided to keep your IT support, cybersecurity, and all the services we provide to you in-house here in New England.
RetroFit Technologies Partners With
Only The Best Hardware & Software Companies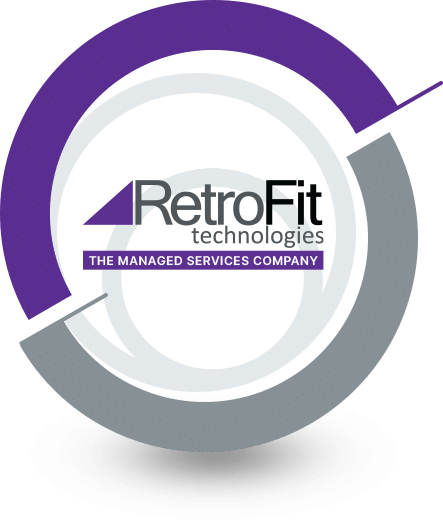 Get Started

With RetroFit Technologies

As Your Trusted New England Provider Of Managed IT Services For Healthcare
RetroFit Technologies provides New England Managed IT Services designed for healthcare organizations like yours, giving you the freedom to focus on your organizational goals – instead of faulty IT.
Discover how RetroFit Technologies can help with all your IT needs. We invite you to partner with us and experience the difference decades of IT experience can make.