Today's technology offers an amazing variety of products and solutions from which to choose. Keeping up with the newest products – at the best value – is a time-consuming task. RetroFit Technologies offers a complete selection of hardware and software products from all major technology manufacturers. From enterprise level networking equipment to PCs, RetroFit Technologies delivers products and solutions that meet your needs – at the right price! Let RetroFit Technologies help you select the technology that best meets your organization's initiatives.
We are an authorized reseller for many of the leading manufacturers in the industry – HP, Brocade, Dell, IBM, Lenovo, Lexmark and many, many more. We possess the technical expertise to help you procure the right products and services for your business environment.
With support from HP, RetroFit Technologies, Inc.'s Hardware Procurement solutions provide companies with HP PageWide printers that streamline crucial business processes to boost productivity. They are designed to support teams of 5-15 people, print up to 70 pages per minute, and come with robust Ethernet and wireless networking options.
HP PageWide printers provide your business with:
Fortified security – with regular security updates, run-time intrusion detection, constant firmware monitoring, and self-repairing capabilities.
Better energy savings – since they use up to 84% less power than other printers.
Enhanced durability – printing pages in a single pass makes for a longer-lasting machine.
More eco-friendliness – carbon footprint is reduced by up to 55% per printer and results in nearly 90% less supply and packaging waste.
HP PageWide printers come in two affordable models:
HP PageWide Enterprise Series
Cost-saving print-only and multi-function printers deliver exceptional value, security and speed. Easily print up to 7,500 pages per month.
HP PageWide Pro Series
Energy-efficient print-only and multi-function printers with strong security features and the lowest total cost of ownership. Capable of printing up to 6,000 pages per month.
If you're interested in learning more, contact Tom Donahue at RetroFit Technologies today via tdonahue@retrofit.com or (508) 439-9032 today!
Secrets of a Secure Office Printing Environment
5 Ways Your Printer Can Defend Against Cyber-Attacks
Automatic Security Updates

Fully Protected Ports

Data Wiped Before Discard

Reduce Unclaimed Documents

Customized Settings and Passwords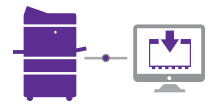 Your printer's firmware can help keep you safe from the most current cyber threats, but only if it's updated.
Firmware updates applied automatically help avoid human error and ensure timely attention
If you have printers from HP, the HP JetAdmin can automatically monitor and update all your printers from one PC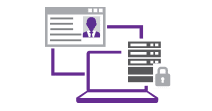 Periodically review the status of all printer I/O ports and immediately secure any that are left open.
Open TCP and UDP ports to authorized users only and lock or disable unused ones
Apply strong user authentication measures like PIN, LDAP, and smart cards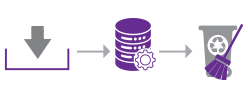 Remove sensitive data such as employee files and proprietary information when a printer is retired or traded in.
Confirm that nothing is left in the device's memory
Erase or destroy the device's hard drive as needed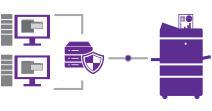 Avoid printouts sitting too long in printer document trays where they could be stolen or compromised.
Use a secure network that requires authenticated users retrieve completed print jobs as necessary
Features such as HP's pull or push printing can automatically reduce unclaimed documents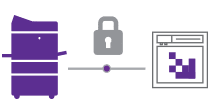 Make sure all printer settings and controls are secure. Never leave a device with its default password or email address.
Change default settings, usernames, and passwords on a regular basis to discourage hackers and data thieves